Whale Watching Safari (incl. Seal Island)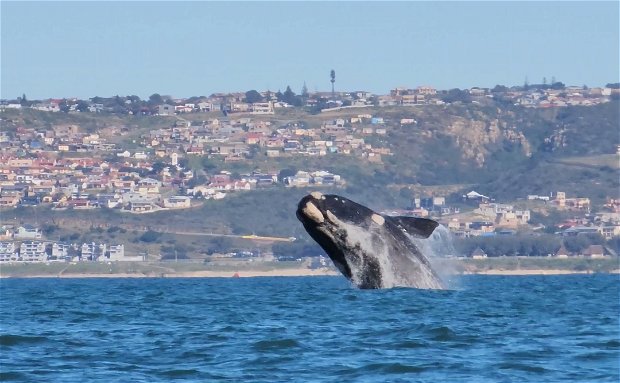 Whale Watching season is July until October. Due to the weather conditions in our protected bay, Mossel Bay has become the Whale Watching mecca of the Garden Route in South Africa. What makes our Whale Watching unique is that we quickly get you to the area where the whales are spotted so that your time is focused on enjoying the whales and not on the trip getting there and back.
We want you to have the best chance of being awestruck by a powerful whale show that might include a breach and tail slap.
Whale Watching Safari
The Southern Right Whales will be migrating from Antarctica back to Southern Africa in the winter months around July and August. The best whale watching season on the Garden Route is the spring months of September and October. The Southern Right Whale is usually a frequent visitor to the Mossel Bay area but you might also be lucky enough to see the Brydes Whales, Humpback Whales and possibly even Orca known as the Killer Whale. The Mossel Bay, Dana Bay and Great Brak coastline are favored by these gracious animals for mating, calving and rearing their young.
On our Whale Watching Safari you may also have the added bonus of spotting a Great White Shark and various other marine life such as Bottlenose Dolphins, Cape Fur Seals, and various sea birds, all on one cruise.
All Safaris include a free visit to Seal Island with its thousands of Cape Fur Seals, the main food source of the Great White Shark. 
Looking for a whale safari with a difference, come spot the whales with us and take all the pictures you like of a lifetime experience. we comply with all marine legislation including maintaining the prescribed distance when approaching marine life. 
Description, duration and requirements:
You will be briefed by our experienced team at our reception area at Mossel Bay Harbour before joining the skippers on one of our boats.


We recommend warm, weatherproof clothing and sunscreen to absorb some of the sun's ultraviolet (UV) radiation and to protect you against sunburn. All passengers are fitted with life-jackets.


The Eco Whale Safari is between 45 and 90 minutes, depending on sightings and weather conditions. We will search for whales, dolphins, sharks, seals and any other sea life while you enjoy the whale spotting boat trip in Mossel Bay.


The minimum age allowed on the whale safari in Mossel Bay is 4 years. No experience is required.


The Eco Whale Safari may include the areas of Mossel Bay Point, Seal Island and a visit to the White Shark cage diving operation where you can take a closer look at the Great White Sharks.


All boat trips, including whale safaris, are weather dependent.


We love our sea life and always respect their territory as well our marine legislation.


Come take all the photos you want. Remember to protect your cameras and phones in waterproof bags.